Frequently Asked Questions
On this page you'll find answers to the most frequently asked questions our Sherrin team receives. If you have questions regarding shipping, delivery dates, status of you order, tracking your order or re-bladdering a classic Sherrin footy then we've got you covered.
Check the quick links below to jump to the section concerning your query.
---
PRECISION KICKING TIPS
Go to www.sherrin.com.au/precision and to gain access to the kicking tips from Mark Williams
---

ORDERING

CAN I ORDER BY PHONE OR EMAIL?
All website (Shop Online) orders are processed via our website only. If you have further enquiries you are welcome to contact our Customer Service Team by calling 1300 654 766 or email us.

WHAT FORMS OF PAYMENT DOES SHERRIN ACCEPT?
Sherrin accepts MasterCard, Visa, American Express, Afterpay and PayPal. Unfortunately, we cannot offer Direct Deposit, Cheques, Diners or cash on delivery as payment methods.

WHAT CURRENCY IS USED ON SHERRIN.COM.AU?
The prices visible on the sherrin.com.au website are stated in AUD (Australian Dollars). All prices are inclusive of a 10% GST Tax. If you are purchasing from outside Australia you will not be subject to further payment of taxes and the GST charge will be removed at the Checkout.
WHEN WILL MY ORDER BE SENT OUT?
We aim to have your delivery to you as soon as possible. If you have purchased Priority Shipping and placed your order before 11 am AEST your item/s will be dispatched that day. For standard delivery and International orders, your item/s will be dispatched within 2 days of placing your order. Please note that during public holidays, sale periods and peak periods shipping times may be delayed.

WHAT IF THE ITEM I AM LOOKING FOR ISN'T SHOWN ON THE WEBSITE?
We only display our inline range on our website. But please feel free to contact one of our stockists to enquire about any of our other items you may have seen. If you would like advice on available stock in contact your local store directly. Please click here to find your local stockist.

IS IT SAFE TO USE MY CREDIT CARD ON SHERRIN.COM.AU?
Yes, shopping at sherrin.com.au is safe and secure. Transactions are processed through the secure Braintree Payment Gateway service. To protect cardholder data Braintree complies with the Payment Card Industry Data Security Standard (PCI DSS). The PCI DSS is the global data security standard that any business of any size must adhere to in order to accept payment cards. It presents common-sense steps that mirror best security practices.

WHAT IF MY CREDIT CARD SHOWS MULTIPLE CHARGES?
The Braintree payment page will only process the payment once. However, if you see multiple charges on your card then you either:
a) Clicked 'submit' more than once at the checkout stage due to a poor internet connection
b) Moved back to update and or change your order or details
If you notice multiple charged please contact 1300 654 766 for assistance

HOW DO I USE A PROMOTIONAL CODE?
You must enter the promotional code in the 'promotion code' box at the shopping cart stage of your checkout and click 'apply'. The application of the promotion will then be visible in your cart.

CAN I MAKE A CHANGE TO AN EXISTING ORDER?
Only if your order has yet to be despatched. Contact customer service via email or on 1300 654 766. If your order has been despatched and you wish to exchange or return your order please ask for a return form from customer service.

HOW CAN I TRACK THE STATUS OF MY ORDER?
Australian shipped orders are sent using Australia Post and a tracking number will be provided to you via email. This can then be tracked directly with Australia Post at auspost.com.au/track/.
New Zealand and all other internationally shipped orders are sent via Australia Posts Registered Post International Service. Tracking numbers will be provided however they can only be tracked whilst within Australian Borders. Once they have arrived in their destination country you can use the local post service websites to track your parcel.

HOW DO I CANCEL MY ORDER?
Once you have placed your order and received your order confirmation, your order can only be cancelled if your order has yet to be despatched. Contact customer service on 1300 654 766 or email us. If your order has been despatched and you wish to exchange or return your order please ask for a return form from customer service.

I HAVE SEEN THE SAME PRODUCT ON ANOTHER SITE. DO YOU PRICE MATCH?
Whilst we do keep an eye across the market and on our competitors' prices, we are unable to price match for product purchases via our online store. We do however offer monthly promotions and regular sales that may be of interest. If you're after a bargain, we welcome you to sign up to receive our offers, promotions and news via e-newsletter from us.
---
RETURNS AND EXCHANGES
CAN I RETURN AN ITEM?
We take great pride in our reputation for quality, and if for any reason you are dissatisfied with your purchase, we will assist you with an exchange or refund. Items returned for exchange must be done so within 14 days of the original delivery date in a resalable condition (unused, undamaged, and unsoiled, with the tags still attached still in original condition). The Sherrin return form must be included with the item when returned. Please allow 10 days from the day you return your product for your account to be credited or online credit to be issued.
Unfortunately, we cannot accept returns that were not purchased online at sherrin.com.au
For further detail please see our Returns & Exchanges page.

WHO PAYS FOR THE RETURN SHIPPING?
Please be advised that exchange postage and handling costs will be incurred by the purchaser. If an item is deemed faulty you will be provided with a reply-paid number and address to ship the product back to us.
Sherrin does not take any responsibility for returns lost in transit.

IF I PURCHASE ONLINE CAN I EXCHANGE IN-STORE?
No, unfortunately, exchanges can only be made through our online department.
---

SHIPPING
HOW MUCH DOES SHIPPING COST?
Orders to Australian Addresses:
Standard Service - $9.95 Flat rate
Priority Service - $16.95 Flat rate
International Orders:
Calculated via Australia Post by destination and weight

HOW WILL MY ORDER BE SHIPPED?
We use Australia Post for all Australian and International orders, and orders will be dispatched in either in a satchel or a small box.

DO YOU SHIP INTERNATIONALLY?
Sherrin ships to most destinations around the world via Australia Post's Registered Post International Service. When entering your address details in the shopping cart please ensure you select the correct country from the drop-down menu.

WHAT HAPPENS IF MY ORDER DOES NOT ARRIVE?
Contact customer service on 1300 654 766 or email us.
---
CLICK & COLLECT
If you wish to avoid shipping and delays we also offer a click & collect option with collection from 28 Hudson Court, Keysborough, VIC, 3173
HOW CAN I PLACE A CLICK & COLLECT ORDER?
Select Click and Collect at the shipping details screen. Clicking on "collect from store" as pictured below

WHEN CAN I PICK UP MY ORDER?
You can pick up your click and collect order once you have been sent the 'Ready for collection' email. Please do not arrive to our location without receiving this email as your order will not be ready when you arrive.

CAN I COLLECT MY ORDER THE SAME DAY?
Orders placed before 11am are generally available for same day collection between 12:30pm - 3:30pm. Orders placed after 11am are available for collection the following day after 8:30am. Again, Please do not arrive without receiving the 'Ready for collection' email.
WHERE CAN I PICK UP MY ORDER?
You can pick up your order from; 28 Hudson Court, Keysborough, VIC, 3173 during our trading hours: 7:30AM - 3:30PM (Mon - Fri).
Click and Collect will be unavailable during the below times for Christmas 2023
Friday 1st of December - All Day
Friday 22nd of December - After 12pm
Monday 25th of December - All Day
Tuesday 26th of December - All Day
Friday 29th of December - After 12pm
Monday 1st of January - All Day
Please note: To take delivery of your order you MUST bring with you:
Your 'Ready for collection' email and Order Confirmation (digital or hard copy)
A valid form of government issued Photo Identification (Drivers Licence/Passport etc)
If you have any questions, please feel free to email us.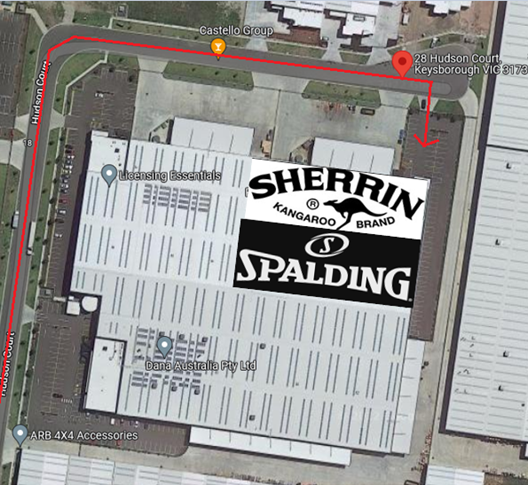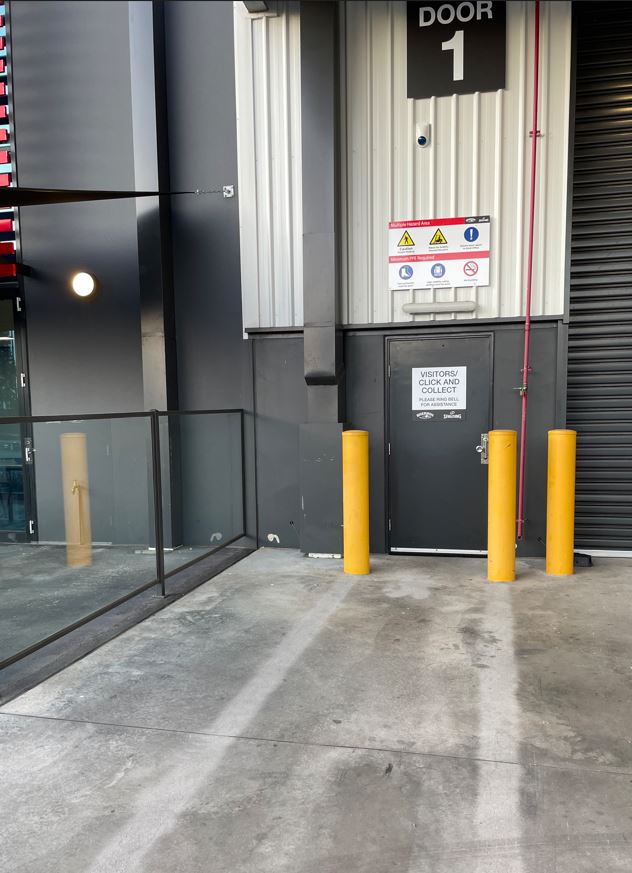 ---

PROMOTIONS
WHAT DO I NEED TO KNOW ABOUT PROMOTIONS?
Promotional Codes are valid for the specified time only and cannot be used in conjunction with any other offer.
Promotional Codes/discount will not be valid and cannot be used during sales events such as Black Friday, Click Frenzy, Boxing day sales etc. This also includes the 10% sign up discount.
One time use promotions must be used in their entirety in a single purchase.
Sherrin promo codes cannot be applied to Anzac Round Balls, SDNR Balls, MND balls or any other ball or range where the proceeds are donated to a specified cause.
The 10% sign up discount does not apply to service products such as Sherrin Rebladdering and or Shipping fees.
Promotions cannot be applied to previously placed orders or to orders that have been adjusted.
Promotions, where you receive a reduction on the second item, will be applied at the checkout on the lower priced item.
Free Promotional merchandise offers upon meeting minimum spend requirements are only available until stocks last. An alternative will not be provided where the stock is no longer available.
Sherrin can at its sole discretion, extend or terminate a promotion at any time.
---

PRE-ORDERS
CAN I CANCEL A PRE-ORDER?
Find out how and when you can cancel an unwanted pre-order.
If you have paid for a pre-ordered product on sherrin.com.au but have changed your mind about the purchase — you can request a refund only if:
The request is made before the release date
The request is made within 14 days of purchase
The product isn't part of a Limited Release/Limited Edition Range
Please note, if the status of your order has already gone into production, you will not be able to request a refund.
---

PRODUCT
WHAT SIZE MATERIAL IS THE OFFICIAL AFL GAME BALL?
The Official AFL Game ball is a size 5. It is made from Australian top-grade cowhide leather.

WHAT SIZE IS BEST TO PURCHASE FOR MY CHILD?
Please refer to our sizing guide below to check the correct size for your needs. For more info click here
| | |
| --- | --- |
| Football Size | Recommended Age Group |
| Size 5 (Full size) | 15 years and over |
| Size 4 | Women & Boys 14 to 15 years |
| Size 3 | 12 to 13 years |
| Size 2 | 9 to 11 years |
| Size 1 (Auskick Size) | 5 to 8 years |
Our novelty balls may have a cm size these are not official sizes

HOW CAN I ENSURE MY FOOTBALL REMAINS IN GOOD CONDITION?
Check out our Maintenance and care page here

HOW MUCH DO I PUMP UP MY FOOTBALL?
Sherrin balls will have an inflation guide printed around their inflation valves. They are marked in kPa (kilopascal) and should never be exceeded.